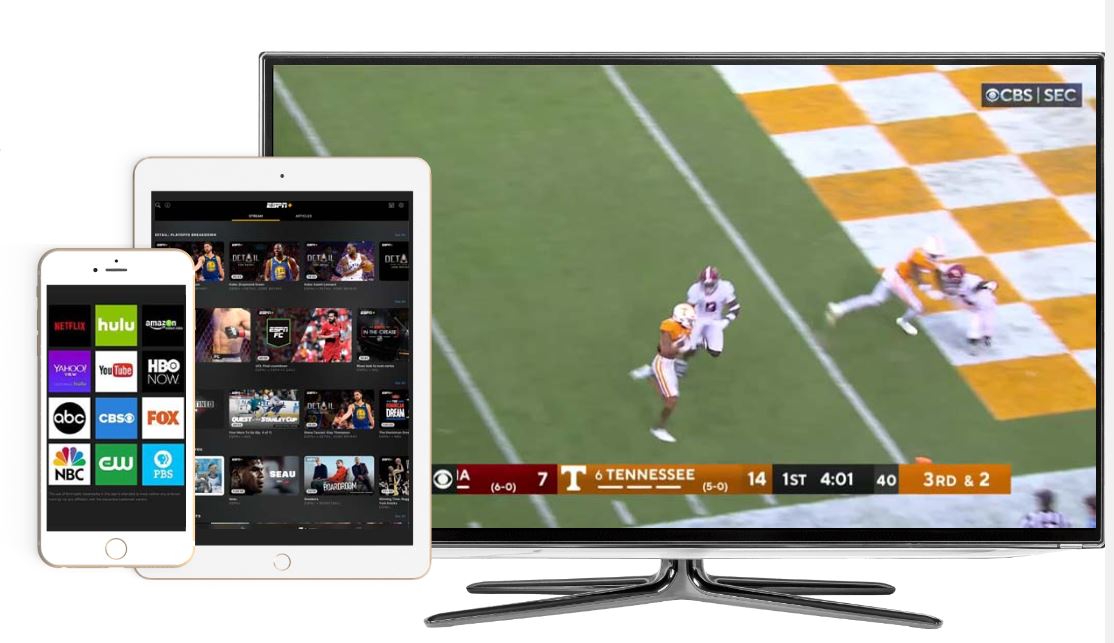 OTT vs CTV: A New Practical Guide for Advertisers
OTT vs CTV
OTT vs CTV? CTV? OTT? The marketing industry is full of 3 letter acronyms and sometimes it gets confusing, especially so when you're being introduced to the rapidly emerging Connected TV.
Everyone is talking about over-the-top (OTT) and connected TV (CTV) right now, but they're often confused for one another or used interchangeably by many marketers and brands.
If it's a little confusing, you're not alone. OTT and CTV are new experiences for everyone. For consumers, it's a different way to watch TV across multiple types of screens with no cable or satellite subscription required. For advertisers, it's a way to reach a new and unique audience. Today's viewers are increasingly turning to diverse viewing options that don't necessarily involve a traditional television. They're watching on Smart TV's, laptops, tablets, smart phones, game consoles and other devices such as Amazon Fire, Roku and Apple TV.
WHAT IS OTT?
So, what exactly does OTT mean? OTT initially stood for "over the top". Referring to plug in devices such as Roku, Fire TV and Apple TV. OTT devices are plugged into TVs that do not connect to the internet and convert older TVs to function as Smart TVs. However, the term OTT has evolved to represent mobile, tablet and desktop – all devices except the big screen.
WHAT IS CTV?
CTV stands for "connected TV" and is any television used to stream video over the internet. These are most often videos that are streamed via apps that are downloaded. Devices that are classified as CTV devices are:
• Smart TV – a TV with a built-in internet connection and app marketplace. This means no additional equipment is needed to stream videos on the TV.
• Connected Devices – these are devices that plug directly into your TV and are connected to the internet, which enables apps and video streaming to be used on the television regardless if the TV itself is a smart TV. Examples include Amazon Fire Stick, Apple TV, Roku and Chromecast.
• Gaming Consoles – Nintendo Switch, Xbox and Playstation are essentially acting as the connected device with their built-in app stores for streaming video content to your television.
WHAT ARE THE BENEFITS OF CTV and OTT ADVERTISING?
CTV/OTT advertising reaches viewers that are often missed by traditional TV commercials. That's where Connected TV (CTV) comes in.
• Superior Targeting Capabilities: Customize your campaign to reach your target audience no matter what they're watching.
• Measurable Results: Go beyond viewability and completion metrics and track website conversion, foot traffic or brand studies to measure performance.
• Growing Audience: CTV/OTT reaches 86% of A18+ and continues to grow. It's not just Millennials anymore. Over 60% of streaming is done by A35+
• Brand Safety with ads delivered during live TV or On-Demand, viewers are reached across familiar broadcast and cable networks, streaming services as well as Free Ad Supported Television (FAST).
• 100% View-Ability all ads run full screen so 100% of pixels are in view, eliminating below the fold ads of other media channels.
• Near Perfect Ad Completion Viewers because ads are a forced view, achieving an average completion rate of 98%.
OTT & CTV CAMPAIGN REPORTING
Measure the impact of your campaigns with both digital and traditional metrics. These are the metrics we can report on to see the impact of your campaigns:
• Impressions Ordered vs Aired
• Video Completion Rate
• Impressions by Network/Publisher
• Impressions by Daypart
• Impressions by Device
• Impressions by Day of Week
• Impressions by Date
• Impressions by Geography
• Impressions by Creative
• Website conversion by Publisher, Daypart, Day, Creative and Geography
CONCLUSION
The CTV/OTT industry is continuously evolving and growing. With OTT and CTV advertising, you can reach viewers aren't watching traditional linear TV. The rise of OTT & CTV viewership is creating new ways for advertisers to reach their target audience by combining the impactful nature of TV with the precise targeting of digital. With OTT and CTV, advertisers can now target, measure, and retarget TV-viewing households, providing an enormous opportunity.
CTV Connect
CTV Connect, our own CTV / OTT / streaming platform combines the flexibility of digital with the premium content of televsion.